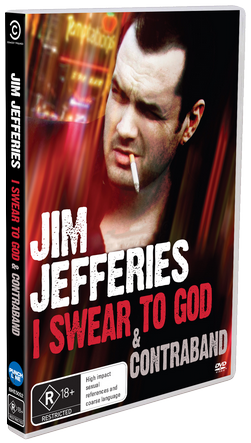 'CAUSTIC, CHARMING, CONTROVERSIAL… call him what you will, but stand-up phenomenon Jim Jefferies is acknowledged as the fastest rising, most hilarious cutting-edge comic ever to claw his way to the top of the comedy world. Hailed by critics and loved by his legions of fans, Jefferies glorious roasting of society's most sacred cows has made him a headlining sensation throughout the world.'


No matter what you think, Jim Jefferies is one of the most successful Australian comedians of all time, and one of the funniest! He is controversial, rude, crude, and down-right wrong but oh so funny! It's the stuff that will make you cringe but secretly love at the same time! And he is back again with two hour-long stand-up comedy performances plus a whole stack of short extra features.

Here in this special edition DVD from Comedy Central we bring together his acclaimed one hour long HBO special 'I SWEAR TO GOD' and a re-mastered and re-cut 2011 version of his previously deleted outrageous UK debut 'CONTRABAND'.

The two stand-up performances contained in this DVD set are very similar and contain some of the same material as the other feature. That is because Contraband was only originally released in the US on 5000 limited edition copies making it rather rare to find. Whereas I Swear To God was a special specifically filmed for broadcast on Comedy Central over in the states. You may find youself skipping over some joke syou had heard in the other feature but it's well worth hearing the other bits you've missed, in particular Jim talking of when he was punched in the head on stage (there's even footage of it!).

Also included on this DVD are a whole heap of 'Jim Jefferies On...' short clips where Jim spins his twisted web on various topics in the world such as Obama, Australia, Internet, Health, Anne Frank, Women and many more. They are only around 30 seconds to a minute long each but definitely are quite humerous!

Fans of Jim Jefferies will love this latest DVD release. I would reccomend for anyone to check it out under one condition...if you are easily offended by jokes of a racist, sexual, and general political incorrect nature, with a fair bit of strong coarse language thrown in, then this probably isn't the DVD for you. Although, you never know, you may actually enjoy it!


★★★.5☆☆
Jim Jefferies - I Swear To God & Contraband can be purchased on DVD NOW!
Visit comedy DVD Gods PUNCHLINE on Facebook NOW!