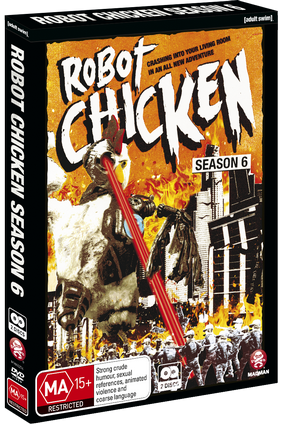 'Robot Chicken is back for its Sixth Season of hilariously insane, wackadoodle, totally off the wall stop-motion animation! This season's 20 brand spankin' new episodes will flash images across your retinas and flood your brains with an overabundance of mind-melting pop culture spoofery that will most likely cause your head to explode and leave a stain on the couch that will never come out (sorry Mum)!'


The all-time number 1 [adult swim] program Robot Chicken is back with this jammed-pack 20 episode Season 6 DVD/Blu-Ray!

The cybernetic fowl from the Adult Swim late-night animated bizarro programming block is back with another full season of Emmy Award-winning stop motion comedy insanity! Twenty colossal, mega-sized quarter-hour episodes! An avalanche of expertly produced, lovingly crafted extras that were not in any way thrown together at the last minute! All on a spinny disc, read by lasers! LASERS! What, are we in space?

This is easily the best season of RC we've seen yet! After picking up an Emmy Award (it's amazing that a show that's broadcast at midnight on Cartoon Network can win such a big award!) the show is now more popular than ever, and even more so for those DVD/Blu-Ray addicts amongst us (guilty as charged!).

As goes with all the previous Robot Chicken releases, there are a HUGE stack of special features included on this DVD set including audio commentary on each of the 20 episodes, deleted animatics, deleted scenes, featurettes (including the Making Of and The Benefits of Robot Chicken), outtakes, channel flips and of course, chicken nuggets!

I throughly enjoyed sitting back and binge-watching this very funny latest season of Robot Chicken, and I think a alot of other people will too...there is definitely something for everybody amongst all those channel flips! It never ceases to amaze me how fantastic the plastic action-figures look and how fantastic the stop motion animation is...there is certainly a lot of work that is put into creating this show that not many people will ever understand.

This one is definitely worth checking out to all fans of the [adult swim] programming block (even though you've probably all seen it before!), fans of sketch comedy and American-style humour. It's definitely worth it!


★★★☆☆
Robot Chicken - Season 6 can be purchased on DVD or BLU-RAY NOW!