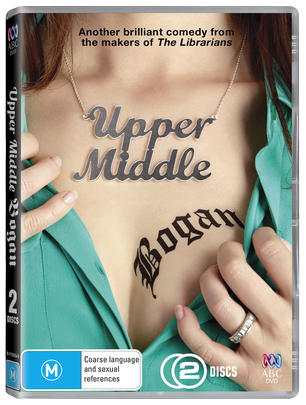 'When Bess Denyar - a doctor with a posh mother, an architect husband and twin thirteen year olds at a private school finds out that she is adopted, she is stunned. But even more so when she meets her birth family. Wayne and Julie Wheeler, parents also to Amber, Kayne and Brianna, head up a drag racing team in the outer suburbs and are thrilled to discover the daughter they thought they had lost.'


Brilliant cast, hilarious storyline, loveable characters; Upper Middle Bogan is an all-around great show!

The series follows the character of Bess Denyar – a rich doctor with a posh mother, who has just found out she is adopted. Soon she learns that her birth family is a group of drag racers, or bogans as they're commonly recognised as. Throughout the series we see the trials and tribulations between Bess's family and her real birth family in a bid to create a strong bond between the two parties.

Created by the team behind hit Australian series The Librarians and Very Small Business, Upper Middle Bogan is a very funny eight-part series that features an amazing cast including Glenn Robbins (Kath & Kim, Russell Coight), Robyn Nevin (The Castle, The Matrix), Patrick Brammall (A Moody Christmas), and Michala Banas (Beaconsfield, McLeod's Daughters).

The DVD also contains some great special features including the very entertaining burp audition, where different members of the cast and crew burp-it-out in a bid to get their burp used in the series!

Upper Middle Bogan will resonate with many people from all places in society, and be loved and enjoyed by all that see it. After receiving top ratings during its current broadcast on ABC1, it would be interesting to see a sequel to the series and see what the characters get up to next!


★★★.5☆☆
Upper Middle Bogan can be purchased on DVD NOW!