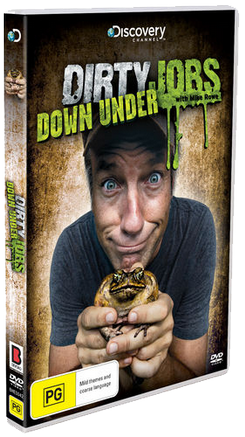 'Mike Rowe has tackled some of the toughest jobs around the world, and now he's heading Down Under in a brand new season of Dirty Jobs. To find the dirtiest jobs Australia has to offer, Mike traverses the country meeting the men and women who perform these tasks daily.'


I've only ever heard great things about Mike Rowe's Discovery Channel series Dirty Jobs before, and now I see why the show gets such a good wrap! In this mini-series, Rowe travels to Australia to undertake some jobs that most people would rather starve than perform!

In Adelaide, Mike removes venomous brown snakes from people's homes, and then travels north to Darwin to learn more about the infamous cane toad population, and how they are being exterminated and recycled (children's toys!!).

Next on the agenda is a trip to Coober Pedy, home of Australia's opal mining industry. Mike joins the local miners in their hazardous and painstaking attempts to strike it rich. Does he strike rich? You'll have to find out for yourself!

Then it's back to Australia's northern coastline, where Mike journeys along hazardous dirt roads to learn how to live off the land like the local Aboriginal people. Here he learns spear fishing, wood chopping and some of the scrumptious cuisines of the outback (did someone say turtle eggs?!).

And finally, Mike joins researchers on the Adelaide River and attempts to capture one of our country's most fascinating creatures: the saltwater crocodile. Watch Mike attempt to make a croc "vomit" in this interesting episode too!

Overall, this is a great small collection of Dirty Jobs episodes that is entertaining, educational and interesting as you learn things about our great brown land that you may never knew existed! Highly recommend to anyone of any age of any taste!


★★★★☆
Dirty Jobs - Down Under can be purchased on DVD NOW!