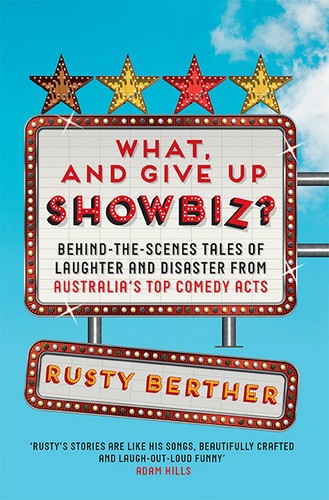 What, And Give Up Showbiz? is the latest book from the hilarious Rusty Berther, after the highly successful Scared Weird Frozen Guy was released in 2012.


In showbiz there has always been an unspoken law that 'whatever happens on the road, stays on the road'…until now! With 25 years' experience in the industry, Rusty Berther is spilling the beans on what goes on behind the scenes in the comedy circuit. From bikies, bucks' nights and hecklers to scalping's, stabbings and overdoses, join the cream of comedy talent.

Featuring hilarious antics, fights, hecklers, angry bikies, runaway lions, CWA sponge cakes from on stage and behind the scenes.

This book rates highly as one of the best books I've read…ever! Whether you're a comedy nut or a casual laugher, you're guaranteed to love this book! Berther has done an outstanding job in the way that this book has been put together; something that could have been done so bad has been executed perfectly. The stories in the book are so encapsulating that you are just left wanting more, wanting to know what the next turn is in the tale of the terrible gig.

The book is divided into all the different horrible things that can happen and have happened to the comedian's featured – bad reviews, altercations with audience members (and bikies), hecklers, bucks parties/hen nights, tour disasters – it has it all!

Join the cream of comedy talent – Adam Hills, Wil Anderson, Lano & Woodley, Scared Weird Little Guys, Dave Hughes, Glenn Robbins, Julia Morris, Russell Gilbert, Dave O'Neil, Josh Thomas, Greg Fleet, Ross Noble, Lawrence Mooney and more – as they share tales of laughter and disaster from their pursuit of 'living the dream'.

I think Adam Hills says it best in his quote on the front cover of the book : "Rusty's stories are like his songs, beautifully crafted and laugh-out-loud funny".

I describe it as – "a comedy lover's wet dream".

Run out to your local book store Friday 1 st February 2014 and grab your copy of the book. If this reflection is any influence on the public, I'm sure they'll fly off the shelves!! Congratulations Rusty, you've done a bloody fantastic job at this book. We live in hope that there will be more from this talented man.

Thanks to the magnificant team at The Five Mile Press, we've got an exclusive extract from the book - a whole chapter named 'That's Drano With One 'N' where you'll learn all the trouble comedians go through for venues to spell their names correctly. Simply click the below link to download the extract NOW!


Download link expired

★★★★★
What, And Give Up Showbiz is available in all good bookstores from Friday 31 January 2014!