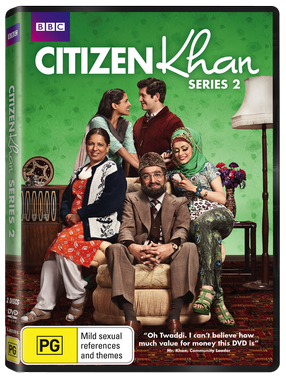 'Sparkhill's favourite family is back, and whether it's getting Alia into a catholic school, taking Amjad for a fertility check, introducing Muslim Bingo or having a close shave at a male grooming salon Mr Khan deals with it all in his own inimitable style.'


Citizen Khan is a sitcom following the trials and tribulations of self-appointed Muslim community leader Mr Khan and his long suffering family in Sparkhill, Birmingham the capital of British Pakistan.

Khan is a larger-than-life character, a small man with big dreams and strident opinions. Like many of us he's struggling to make ends meet – but he's proud of his thriftiness – witness his 1979 suit and ancient yellow Mercedes. Things would be so much easier if everyone just listened to him and followed his lead, but his obsessively house-proud wife and two feisty daughters have other ideas.

This show can do no wrong! It is thoroughly entertaining and hilarious, with some fantastic acting from creator Adil Ray and the brilliant support cast. This DVD contains six hilarious half hour episodes that were originally broadcast over in the UK late last year and a few months ago on Channel Seven. Fans of the first series must see what the family are up to in this second series!

And the best news? The show has just been renenwed for a third series! Oh Twaddi!


★★★.5☆☆
Citizen Khan - Series 2 can be purchased on DVD NOW!