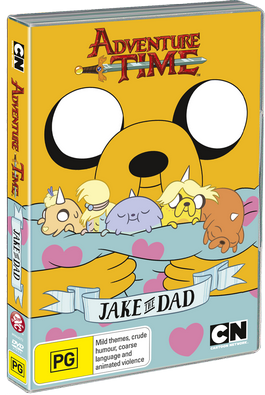 'What time is it? Time to meet Jake and Lady Rainicorn's puppies! You've never met more adorable pups or a worrywort of a dad more in need of a power nap. As well as the usual lack of sleep stuff, Jake has to protect his offspring from a bunch of of foxes who a determined to eat the pups! It ain't easy being the world's best dad... '


Jake The Dog and Finn The Human are back with all their friends for this, the fifth collection of the internationally acclaimed series Adventure Time! Loved by millions of people around the globe, the show is definitely the best and most popular Cartoon Network program from recent years, if not ever!

The series follows the adventures of Finn, a human boy, and his best friend and adoptive brother Jake, a dog with magical powers to change shape and grow and shrink at will. Ward describes Finn as a "fiery little kid with strong morals", while Jake is based on Bill Murray's character Tripper Harrison from Meatballs. Finn and Jake live in the post-apocalyptic Land of Ooo. Along the way, they interact with the other main characters of the show: Princess Bubblegum, the Ice King, and Marceline the Vampire Queen.

Collection 5 - Jake The Dad contains 16 more hilarious and enjoyable adventures from Jake and Finn, plus the DVD features a bonus feature called 'Little Did You Know'. And for a limited time, you can grab the collection in all its glory with a bonus Jake The Dog hat...something that those die-hard fans with drool over!

Adventure Time is even better I find because you can jump on board at any time, watch any episode and not feel as if you have missed anything as the episodes don't follow on as such. It's a new adventure each episode and, well, this collection contains 16 of them! Pop this one on your Santa list for sure!

★★★.5☆☆
Adventure Time: Jake The Dad (Collection 5) can be purchased on DVD NOW!
Also available for a limited time with a bonus Jake The Dog hat HERE!