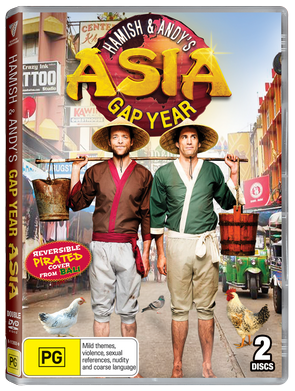 'Hamish & Andy's third Gap Year takes them to Asia! But after already experiencing America and Europe, it turns out that nothing could have prepared them for the Spider Eating, Land-mine Wrangling, Dragon Catching and Bum Punching insanity that awaited them in Asia!'


Hamish Blake and Andy Lee are back at it again doing crazy stuff that is truely memorable with their third gap year to ASIA (how many Gap Year's do these guys need anyway?!). Each episode, based in an Asian bar, shows adventures of the two as they complete some pretty daring and dangerous tasks! There's roundabout racing, sumo wrestling, running on water, spider eating, weight lifting with testicles, robots and a whole stack more.

We see even see the return of Hamish's Ultimate Wingman as it is revealed Andy is a mega-pop superstar with a new hit single, even though he doesn't know a thing about it...and didn't even sing it for that matter!

My favourite part of all would easily be the segment Cultural Eating, where one of the boys is challanged by the other to eat something extraordinarily disgusting, for example 18-day old duck egg (complete with bird fetus inside), a beating cobra snake's heart with a side of blood, plus a couple of other's which I'll leave for you to discover and drool over!

The DVD is also packed with some hilarious special features including photo galleries, behind the scenes of the Superman trailer shoot, never before seen stories (including sumo school and the dwarf empire), the anaconda (Hamish tries to gulp a huge omlette without chewing!) plus heaps more!

If you enjoyed watching the show on TV, then this DVD is for you! Relive some of the best and most hilarious moments from the six episodes of fun and silliness from Hamish & Andy. Fingers crossed this isn't the last we see from these boys on our television screens for a while...


★★★.5☆☆
Hamish & Andy's Gap Year Asia can be purchased on DVD NOW!