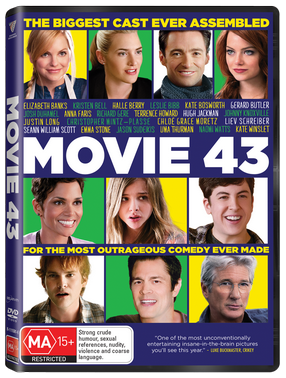 "From the twisted minds of producers Peter Farrelly (Shallow Hal) and Charles Wessler (Dumb & Dumber), comes Movie 43 - the outrageous new ensemble comedy starring some of the biggest names in Hollywood. Movie 43 is not for the easily-offended and contains jaw-dropping, sometimes shockingly disturbing, but always entertaining intertwined storylines you'll have to see to believe."


Strange, odd, weird, outrageous, f***ed up...it's all been said about Movie 43. Up until now, I had no idea what it was all about. Now I've finally seen the 'most outrageous comedy EVER made', and let me tell you, it is far from that!

The film is basically multiple short comedy scenes presented by Charlie Wessler (played by Dennis Quaid) who is pitching a scrip to film executitives. Some of the kinda 'normal' scenes include; well, actually, there are no normal scenes to mention! They are all so f***ed up its unbelievable. For instance, the first of these shorts stars Kate Winslet and our Aussie Hugh Jackman, two of the biggest stars in Hollywood today. The two have been set up on a blind date, where everything seems normal. Until, Hugh removes his scarf. What is seen dangling from his neck is, well, his manhood! And this is the least weird of them all!

The film contains a whole swag of screen icons including Richard Gere, Johnny Knoxville, Naomi Watts, Anna Faris, Emma Stone, Halle Berry, Stephen Merchant plus HEAPS more, which in itself is enticing enough to anyone to check it out. But they aren't playing your average film characters!

In terms of the DVD itself, I was a little disappointed with the lack of DVD extras. It would have been great to see some scenes that were cut (I can guarantee there would have been some that ended up on the editing room floor!) or behind the scenes featurettes etc.

To be honest, I didn't laugh at all during this movie. It was really quite disappointing really to see such a big cast in such a bad movie - much more could have been done to make this better! I personally wouldn't recommend getting this because your favourite actor/actress in in this, as it may disappoint you. The target is probably teenagers and middle-aged people with a weird and sick sense of humour! I would however definately watch it again, with someone who hasn't seen it before. Anyone's reaction would be PRICELESS!

Maybe your feeling lucky? If you are, just by CLICKING HERE you can enter our giveaway to win 1/3 copies of the film on DVD. Nice!