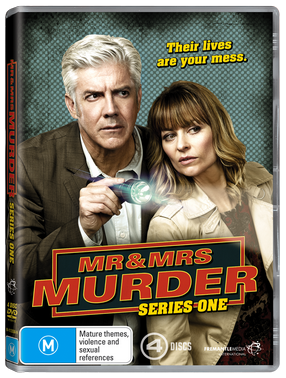 "Mr & Mrs Murder are Charlie and Nicola Buchanan, crime scene cleaners whose unique quirks and talents solve the most baffling murder mysteries. Together they are a superhero team. When you combine cerebral Charlie's monumental mind for facts and figures with crime fiction guru Nicola's deep sense of justice, observational skills, and empathy, theres really no place for a killer to hide. Mr & Mrs Murder is a warm and witty whodunit; a murder mystery with a smile."


I LOVE Mr & Mrs Muder. Need I write anymore? It's one of a select few shows that I've fallen for this year, and haven't I been telling everyone about it!

What first attrated me to the show, and a large part of the audience for that matter, is comedian Shaun Micallef as the role of Charlie Buchanan. Being a fan of Shaun's work from shows such as Talkin' Bout Your Generation, Mad As Hell and Micallef Tonight, I had heard and understood this role was something completely different to what we've seen frm Shaun before. His character, Charlie, is such a loveable and intelligent character who audiences have fallen for around the country.

Micallef's on-screen chemistry with actress Kat Stewart (Offspring) as his wife, Nicole Buchanan, is definately one of a kind. Their marriage is inseparable - nothing can stand in the way of their relationship, which is one of the reasons why I enjoyed this series so much. We didn't have to put up with emotional troubles between the couple throughout the series, no distinct dramas that was detrimental to their relationship, just your typical husband wife relationship that was perfect!

Charlie and Nicola often enlist the reluctant help of Nicola's niece, Jess (played by Lucy Honigman), in their sleuthing. Jess came to stay with them for a month two years ago and never left. When it's particularly tough, they also lean on their regular book club guests, Alan and Janine. Wheelchair bound Alan is an enigma wrapped in a riddle – just how does he know how to reassemble an AK-47, yet bake such a delicious sponge cake? And desperately single Janine can always be relied upon to unwittingly create a distraction.

Having the Buchanans clean murder scenes suits Homicide Detective Peter Vinetti (Jonny Pasvolsky), who is stretched beyond his means as well as infatuated with Nicola. He turns a blind eye to their methods, just as long as they supply a watertight chain of evidence for which he can take the credit.

All-in-all, I cannot recommend checking out Mr & Mrs Murder enough. Fans of Micallef will love it, fans of comedy will love it, fans of mystery and whodunit will love it...most people I know would love it! One draw back from the DVD release itself is the lack of special features. There were several behind the scenes clips that were posted on the Channel TEN website throughout the airing of the series earlier this year that gave a fascinating glimpse to how the show cam together. It would have been nice to see some of these in the collection but nevermind, they are still available on the site for your viewing pleasure! Let us know what you think in the comment section below.

Fancy yourself the lucky type? Visit our GIVEAWAYS section and follow the links for a chance to win 1 of 3 copies of the Mr & Mrs Murder DVD!


★★★★☆
Mr & Mrs Murder - Series 1 can be purchased on DVD NOW!