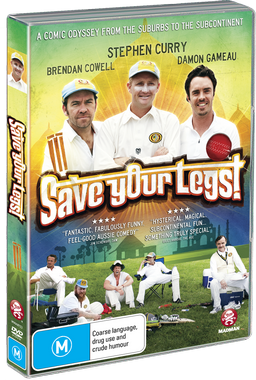 'Edward (Teddy) Brown is obsessed with cricket. His whole life has revolved around the game, his park cricket team and his mates. Now that they've hit their mid thirties, his friends are starting to move on, trading in the team for their careers, wives, mortgages and kids. With Ted's precious Abbotsford Anglers on the brink of extinction, he makes one last, desperate attempt to keep his mates passion for the pitch alive and convinces his boss Sanjeet to let the Anglers represent Australia on a cricket tour of India.
Once there, Ted discovers that his dreams of winning an international cricket tour might be harder than he thinks, as his two best friends are more interested in sampling the local customs than they are with picking up a bat. Dealing with pitch invasions from goats, hallucinogenic smoothies, street parties and dry cleaning disasters, Ted's grip on the team begins to fall apart. Soon his passion for the game threatens to cost him not only the team and his mates, but also the heart of Sanjeet's beautiful daughter Anjali.
An inspirational adventure filled with comedy, cricket and Bollywood music, SAVE YOUR LEGS! is an odyssey from the suburbs to the sub-continent in pursuit of a boyhood dream.'


Save Your Legs! is a somewhat enjoyable, light-hearted film starring AFI and Logie-award winning actor Stephen Curry and a cast of others. The film, written by and starring Brendan Cowell (The Slap, Love My Way), is about a local Melbourne cricket team (the Abbotsford Anglers) who represents Australia in a small tour of India. The film was based on an original documentary that can be found within the special features of the DVD.

The film was given the genre of comedy, however I struggle to find many comedic aspects at all. The storyline is very predictable - travel to India, play a few games of cricket, troubles with team-mates, fall in love etc etc. It even seemed like a tourist campaign of sorts for India in some parts with the constant Bollywood music played in the background and shots of the Indian public staring at the camera crews, wondering what the hell they were filming!

The highlight of the film for me was the character of team secretary and stats-tracker Colin, played by the always hilarious Darren Gilshenan (A Moody Christmas, The Elegant Gentleman's Guide to Knife Fighting). The general awkwardness of his character is fantastic and gave me one of the few laughs during the film.

Overall, I found Save Your Legs to be sort of a hit-and-miss to me. So much more could have been done to the film in order to make it that little bit more successful. If you're a fan of the game of cricket (which I sure am), I wouldn't worry too much about seeing it as it doesn't focus on the cricket tour as much as it could have, which I believe would have allowed for a more enjoyable and fun viewing.


★★.5☆☆☆
Save Your Legs! can be purchased on DVD NOW!