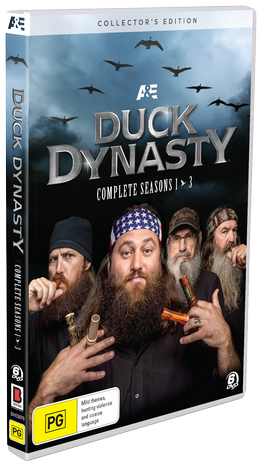 'Duck Dynasty continues to set ratings records alight with 12 million viewers tuning in to the recent Season 4 premiere in the USA. With its hilarious mix of eccentric characters and chaotic comedy hi-jinx, the series is also now a firm favourite on A&E Australia.'


The Robertson's are America's favourite big, bearded, camo-clad family. Despite their modest homes and lifestyle in the backwoods of Louisiana, this close-knit clan has made a fortune selling duck hunting whistles, turning a backyard business into a multi-million dollar sporting empire.

Their rags-to-riches dynasty includes business-savvy Willie, his brother Jase, their better halves Korie and Missy, patriarch and company founder Phil, matriarch Miss Kay, and good old Uncle Si. But for Willie, the company's CEO, running a family operation is tough when all your employees are easily distracted and will find any excuse to walk off the job.

They may be living the American dream, but they're just as busy staying true to their rugged outdoor lifestyle and southern roots. Of course, in this household, even the most ordinary family affair is met with a special Robertson twist of down-to-earth practicality and quirky sense of humour. Day-to-day life in the bayou may be mundane for some, but for the Robertson's, every day brings a new adventure.

Throughout the seasons you can see the show becoming more and more scripted, but the underlying theme and message stays the same, as Willie Robertson said in a recent interview - "We were able to use that platform to get out God's message, and if it ended right there, it ended right there. I felt like that was pretty much what God prepared us to do."

This special boxset is perfect for first time viewers who want a weekend binge of hours of entertainment from the Robertson family. Of all the new A&E reality/documentary series' of recent years, Duck Dynasty tops the lot. And this, in particular, is thanks to Willie's Uncle Si - the life of the show. To be honest, I don't think the show would be the same without quirky old Uncle Si and his hilarious one liners - 'Hey Jack!'. With over 15 hours of Robinson family hi-jinx, this limited edition collection is the perfect gift for the growing army of Duck Dynasty fans.


★★★★☆
Duck Dynasty: Complete Seasons 1-3 can be purchased on DVD NOW!