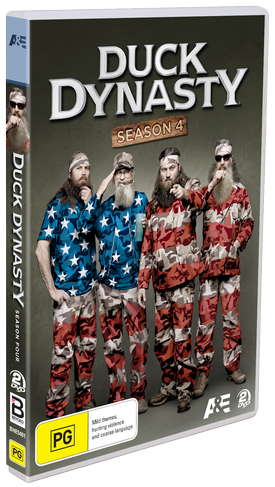 'Everyone's favourite redneck millionaires are back for a fourth season as the Robertson clan embarks on more hilarious adventures in the Louisiana bayou whilst operating their multi-million dollar sporting goods empire.'


Hold on to your hunting hats! The Robertsons are back in Season 4 of Duck Dynasty and they've never had so much Southern charm.

The Robertsons have built a multi-million dollar sporting empire manufacturing duck calls in Monroe, Louisiana and have earned a seat in homes across the country with their special brand of downhome practicality, southern charm and sharp sense of humor.

Every day affairs are met by Willie's growing business ideas, Phil's fatherly advice, Mrs. Kay's delicious recipes, Uncle Si's oddball philosophies and Jase's endless need to hunt, fish, and rib his brothers. They are the family that works together, plays together and of course, eats together. The whole family joins in for more adventures on the bayou, where day to day life may be mundane for some, but for the Robertsons, is anything but dull.

This season, it's a family affair as everyone comes together to throw a surprise vow renewal for Phil and Kay. And when the guys and their wives realise Martin is foregoing poker for a date, they all take turns coaching him for romance. Meanwhile, Phil tries to teach his granddaughters how to fish, but the girls outsmart him and have him doing all the work. Later, he and Kay teach Sadie and John Luke how to make Mayhaw jelly. The guys' antics continue as they attempt to make duck jerky, and a series of "gentleman's bets" leads them to the ultimate challenge of helping Phil get a boat down from a tree.

This fourth season contains all 11 episodes as broadcast on A&E networks around the globe - almost 5 hours worth of Duck Dynasty goodness! If you're a fan of the previous 3 seasons, then you must buy this new DVD and catch up on all the latest shenanigans from the Robertson family. If you've never seen the show before, I highly recommend grabbing a copy of the Complete Seasons 1-3 boxset which contains over 15 hours worth hilarity from the backwoods of Louisiana from all of the crew at Duck Commander.

Uncle Si says - Hey, buy it today, Jack!


★★★★☆
Duck Dynasty - Season 4 can be purchased on DVD NOW!