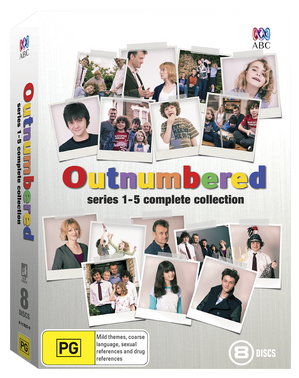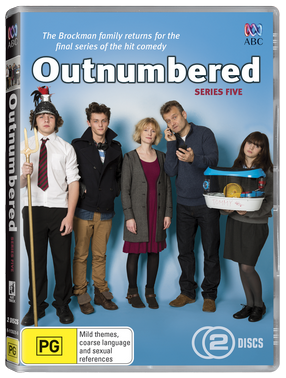 'Outnumbered follows the daily chaos of family life with two parents and three young children locked in an unequal contest. Containing strong elements of improvisation this comedy is an honest portrayal of the well meaning parental incompetence that happens in most homes. From the creators of Drop the Dead Donkey Andy Hamilton and Guy Jenkin Outnumbered is quite unlike any other family comedy seen before.'


Outnumbered has quickly risen through my list of favourite British television series' this past week! Having only ever heard the name of the show before, and recognising the curly headed child on advertisements for the show, I'd never really gotten around the seeing what all the fuss was about. Having seen that Roadshow Entertainment and ABC DVD were releasing not only the fifth and final series of the program to DVD, but a complete Series one to five collection, I jumped at the opportunity to check this show out once and for all! Boy, am I happy I did!

The semi-improvised award-winning comedy has touched hearts worldwide, and audiences have fallen in love with the children who we watch grow into young adults throughout the five series' and seven years of the show. The program is centred on the Brockmans, a middle-class family living in south London, whose two parents are "outnumbered" by their three, somewhat unruly, children.

The father, aged 50, Pete (played by Hugh Dennis), is a history teacher at an inner city school and the mother, aged 45, Sue (played by Claire Skinner), is a part-time personal assistant. The three children are: Jake (played by Tyger Drew-Honey), aged 17, the straight man of the family, whose teenage sarcasm and obsession with girls worries his mother, Ben (played by Daniel Roche) aged 13, who is hyperactive, a pathological liar, does unusual things, and is always coming up with hypothetical questions like "who would win in a fight between...", and Karen (played by Ramona Marquez), aged 11, who asks too many questions, frequently imitates a lot of what she sees on television and criticises nearly everything.

In series 5, the Brockmans return, older but not wiser! The parents face new challanges now - Karen has started secondary school, where her uncompromising attitude is winning her no friends. Ben has grown into a massive 13 year old who is grappling with the problems presented by pubescent lust, stage fright and man-traps. While the oldest son, Jake, hovers on the brink of adulthood, beset by poor decision making about gap years, sexual morality and cheap tattoos. Mum and Dad battle their way through all this, plus an usettling barrage of email firestorms, missing hamsters, vigilante neighboursm unwelcome visitors from abroad and a musical version of 'Spartacus'.

There are 29 episodes across the five series' including 2 festive Christmas specials. Aswell as that, there is a stack of extras including interviews with cast and crew, bloopers, deleted scenes, alternative scenes and a special 'Making of' featurette focused on series 3. That's over 16.5 hours of Outnumbered shown across the eight discs in this ultimate set.

If you've never seen the show before, and are a fan of light-hearted, family-friendly British comedy then I guarantee you'll love this series. It's very easy to watch the entire show in a couple of days thanks to this complete collection (which is what I did!). And, of course, if you are a fan of the previous four series' then it's a must you purchase the fifth and final series' from the Brockman family.


★★★★☆
Outnumbered: Series 5 can be purchased on DVD HERE!
Outnumbered Series 1-5 can be purchased on DVD HERE!